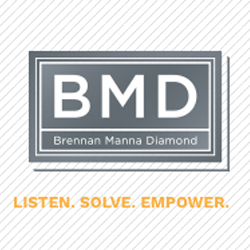 Brennan Manna Diamond
Legal Assistant
Cleveland, OH
Paid personal time, Paid holidays, Paid vacation, 401K / Retirement plan, Disability Insurance, Vision Insurance, Dental Insurance, Life Insurance, Health Insurance
$45,000.00 – $60,000.00 Annually
Brennan Manna & Diamond is now hiring a Legal Assistant with experience in any or all areas litigation, healthcare, and corporate transactional. This position will have legal assistant responsibilities for 3 - 4 attorneys. You will report to the Managing Partner of the office.
Experience Requirements & Education
·        5 to 7+ years' experience in a law firm. Paralegal Certification not required but is a plus.
·        Document Drafting.
·        Experience in multifaceted workload is a plus.
Responsibilities
·        Research.
·        Draft legal documents and proofread for accuracy, including demand letters, pleadings, and client correspondence.
·        Communicate professionally and promptly with BMD personnel, clients, and external contacts at all times.
·        Excellent customer service.
·        Track and docket all dates for various deadlines.
·        Manage and organize a large number of files / clients, ensuring all information is kept up to date and easy to access electronically.
·        Assist in general case management.
·        Time entries and receivables management
Skills
·        Great attention to detail.
·        Ability to provide the utmost confidentiality
·        Team-oriented mindset.
·        Well versed in Microsoft Office; Excel, Word and PowerPoint.
·        Excellent written, oral, reporting, and presentation skills.
·        Outstanding customer service skills and matching attitude.
·        Strong organization and analytical skills.
·        Strong research skills.
·        Ability and willingness to maintain confidentiality.
·        Ability to manage multiple projects simultaneously.
·        Ability to lift a maximum of 20 pounds. 
We are an equal opportunity employer.
5z8tb7ilkjem
318665306