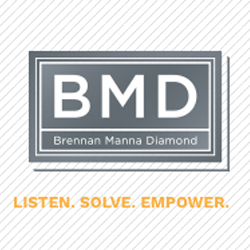 Brennan Manna Diamond
Marketing Communications Specialist
Sorry, this job has expired.
Akron, OH
Paid holidays, Paid vacation, 401K / Retirement plan, Disability Insurance, Vision Insurance, Dental Insurance, Life Insurance, Health Insurance
$60,000.00 – $75,000.00 Annually
Entrepreneurial professional services organization with over 90 professionals and nine offices across the U.S., seeking go-getter mar-com specialist.
The organization has an active group of legal professionals who rely on Marketing and Business Development to provide them with tools, resources and opportunities to connect with clients and grow their books of business. The marketing communications specialist will provide support in the areas of marketing, branding, communications, events, business development and community involvement for our all offices, reporting to the firm-wide Director of Marketing.
Pay
Commensurate with experience and background; range: $60,000-$75,000
Experience
·        4+ years of experience in marketing communications - professional services experience (accounting, consulting, legal, etc.) preferred, but not required
Education requirements
·        BA or BS in Marketing, Communications, Public Relations, Business, or related degree
Qualifications, Characteristics and Experience Requirements
·        Energetic self-starter: high-functioning and organized
·        Creative thinker and maker
·        Analytical and problem-solving skills
·        Superior interpersonal skills at all levels of the organization
·        Interview and storytelling skills
·        Exceptional writing and editing skills
·        Excellent speaking and presentation skills
·        Social Media savvy – all platforms (strategy, scheduling, writing, and posting)
·        Intermediate layout and graphic design skills – Adobe preferred
·        Intermediate video editing and production skills
·        Significant project management experience
·        Large and small event planning experience
·        Efficient email marketing and CRM skills
·        Resourceful research skills 
Responsibilities
·        Thought Leadership/Content strategy and coordination; editing and publishing for various platforms and deliverables (written and digital)
·        Social strategy; writing, scheduling, and posting
·        Support business and client development efforts including RFP/RFQ research, coordination, creation and submission
·        Market and industry research and reporting
·        Webinar and event planning & logistics
·        Facilitate internal and external fundraising and community involvement opportunities
·        Coordinate call for speaker and author opportunities
·        Editing and production for multi-media
·        Nominations and directories management and promotion
·        Sponsorship coordination and execution
·        Presentation creation and consultation
·        Vendor and publication coordination
·        Additional responsibilities to support the Marketing and Business Development function, professionals, and teams 
Skills
·        Adobe Suite
·        Excel
·        PowerPoint
·        CRM
·        Search Engine Marketing
·        Google Ads
·        Google Analytics
·        Video production
·        Photography
·        Webinar platforms (Zoom, Teams, etc.)
We are an Equal Opportunity Employer
98881902
98881902