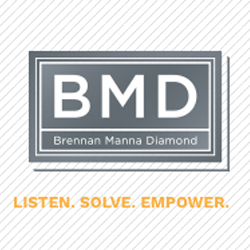 Brennan Manna Diamond
Senior Real Estate Attorney
Dallas, TX
Paid personal time, Paid holidays, Paid vacation, 401K / Retirement plan, Disability Insurance, Vision Insurance, Dental Insurance, Life Insurance, Health Insurance
Candidates must meet all requirements and qualifications to be considered for this position.
Brennan, Manna & Diamond Dallas is a mid-size law firm with a diverse, and dynamic real estate practice seeking to expand its Real Estate Practice Group with the addition of a highly qualified and motivated attorney with 5+ years of commercial real estate working experience.
We are looking for enthusiastic candidates who thrive working in a collaborative team environment, who are willing to work hard while having fun, and who consistently strive to deliver exceptional client service and work product of the highest quality.
This position will provide significant opportunities for direct client interaction and management opportunities. 
Your salary will be aligned with experience.
Education requirements
• Juris Doctor (JD) degree
Relevant Work Experience
• Negotiating purchase and sale agreements
• Acquisitions and dispositions of real property
• Commercial real estate development and entitlements
• Title and survey review
• Lease preparation and negotiation
• Drafting and negotiating complex loan documents
• Transaction and project management
Qualifications
• 5+ years of real estate transactional experience
• Licensed to practice law in Texas or willing to obtain a license to practice law in Texas
• Outstanding attention to detail
• Strong work ethic, dependable, reliable, self-starter, and motivated
• Commitment to maintaining strict confidentiality requirements
• Portable book of business not required
Responsibilities
Embrace Brennan, Manna & Diamond's core values, meaning:
• Commitment to excellence
• Act with integrity
• Driven to the best result for the client
• Team-based mentality
• Drafting and negotiating financing and organizational documents, leases, and purchase and sale contracts
 Skills
• Excellent research, writing skills, and analytical skills
• Exceptional interpersonal, written, and oral communication skills
• Outstanding planning and organizational skills
• Ability to prioritize tasks, manage workflow, and complete multiple projects simultaneously with little oversight
• Ability to analyze facts to recommend and implement transactional strategy
• Ability to maintain, create and develop trusting and lasting relationships with diverse audiences, including prospective clients, to gain future business
Application requirements
• Resume and Cover Letter must be provided (as one document) to apply and be considered for this position.
We are an Equal Opportunity Employer.
bq8tahwom5fs
318665305