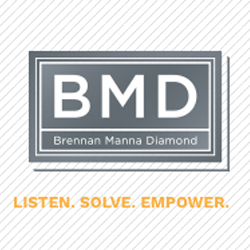 Business Development Coordinator
Orlando, FL
Brennan Manna Diamond (BMD) is an entrepreneurial, business law firm with 70 lawyers and eight offices seeking a Business Development Coordinator for its Jacksonville office.
BMD has an active group of legal professionals who rely on Marketing and Business Development to provide them with tools, resources and opportunities to connect with clients and grow their books of business. The Business Development Coordinator will provide support in the areas of marketing, branding, communications, events, business development and community involvement for our Florida offices, reporting to the firm-wide Director of Marketing.
Pay is commensurate with experience and background.
Responsibilities:
• Support business and client development efforts
• Market and industry research and reporting
• Facilitate community involvement opportunities
• Coordinate call for speaker and author opportunities
• Event planning & logistics
• Sponsorship coordination
• Presentation creation
Education & Experience:
• BA in Marketing, Communications, Public Relations, Business or related degree
• 1-3 years of experience
• Project management experience
• Event planning experience
• Research experience
• Professional Services (Legal, Accounting, etc.) experience preferred, but not required
You must have knowledge of the following:
• Adobe Suite
• Excel
• PowerPoint
• CRM
• Search Engine Marketing
• Google Ads
• Google Analytics
• Video production
• Photography
• Webinar platforms (Zoom, Teams, etc.)
Qualifications & Skills:
• Creative and energetic
• High-functioning and organized
• Social media savvy
• Exceptional writing skills
• Superior interpersonal skills at all levels of the organization
• Excellent speaking and presentation skills
Work hours:
This is a permanent part-time position. You will work 29 hours a week.
We are an Equal Opportunity Employer.
16649661