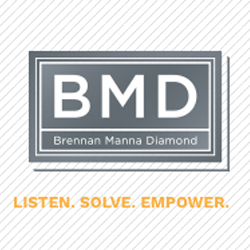 Litigation Attorney / Associate
Sorry, this job has expired.
Jacksonville, FL
Health Insurance, Life Insurance, Dental Insurance, Vision Insurance, Disability Insurance, 401K / Retirement plan, Paid vacation, Paid holidays, Paid personal time
Brennan Manna Diamond is an established law firm with a diverse, and dynamic litigation practice.

We have an immediate opening for a Litigation  Attorney / Associate. This position is an excellent opportunity for the right candidate to become a part of this firm's team and continued growth.

Your salary will be aligned with experience.

• Juris Doctor (JD) degree
• 4-5 years of litigation experience in one or more of the following:
- Commercial Litigation
- Business Law
- Employment Law
- Construction Law
• Strong case management experience a plus

• License to practice law in Florida and Federal courts.
• Outstanding attention to detail.
• Strong work ethic, dependable, reliable, self-starter, and motivated.
• Commitment to maintaining strict confidentiality requirements.
Embrace Brennan Manna Diamond's core values, meaning:
• Commitment to excellence.
• Act with integrity.
• Driven to the best result for the client.
• Team-based mentality.

As a Litigation Attorney / Associate, you will work closely with partners, associates, and staff to support client needs in pertaining to litigation matters.
• Excellent research, writing skills, and analytical skills.
• Exceptional interpersonal, written, and oral communication skills.
• Outstanding planning and organizational skills.
• Ability to prioritize tasks, manage workflow, and complete multiple projects simultaneously with little oversight.
• Ability to analyze facts to recommend and implement case strategy
• Ability to maintain, create, develop trusting and lasting relationships with diverse audiences, including prospective clients, to gain future business.

We are an Equal Opportunity Employer.

17533