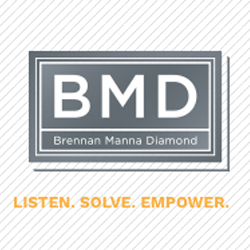 Legal Assistant - Paralegal
Sorry, this job has expired.
Columbus, OH
Vision Insurance, Paid vacation, Paid personal time, Paid holidays, Life Insurance, Health Insurance, Disability Insurance, Dental Insurance, 401K / Retirement plan
$38,000.00 – $50,000.00 Annually
Brennan Manna Diamond is now hiring a Legal Assistant - Paralegal.

This is a great opportunity for the right candidate to join a growing 70 attorney/120 employee law firm in Downtown Columbus
• Prior work experience in a law firm(s).
• 1-3 years of corporate/business/transactional-related experience is preferred, but not required.
• Great attention to detail.
• Team-oriented mindset.
• Well versed in Microsoft Office; Excel and Word.
• Type correspondence and documents for corporate/business/transactional practice.
• Draft legal documents and proofread for accuracy.
• Communicate professionally and promptly with BMD personnel, clients and external contacts at all times.
• Emphasize excellent customer service.
• Manage and organize a large number of files, ensuring all information is kept up to date and easy to access.
• Assist in general management as a legal assistant.
• Excellent written, oral, reporting, and presentation skills.
• Outstanding customer service skills and matching attitude.
• Strong organization and analytical skills.
• Computer skills required.
• Ability and willingness to maintain confidentiality.
• Ability to manage multiple projects simultaneously.
• Ability to lift a maximum of 20 lbs.
• Monday-Friday, 7.5 hours/day.

We are an Equal Opportunity Employer.
15399