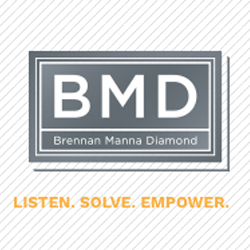 Nurse Paralegal
Columbus, OH
Health Insurance, Life Insurance, Dental Insurance, Vision Insurance, 401K / Retirement plan, Paid vacation, Paid holidays, Paid personal time
$60,000.00 – $80,000.00 Annually
Brennan Manna Diamond is looking for an RN who has responded to medical/legal issues. Ideal candidate would be an RN with paralegal experience. Will accept an LPN for the position. RN or LPN must be able to get paralegal certification within 9 months.

This position will work as a nurse paralegal on healthcare law matters under the supervision of a licensed attorney for a growing 65 attorney / 135 employee law firm.

Pay is commensurate with experience.


• State of Ohio Licensed LPN/RN
• Paralegal Certification or the ability to obtain a Paralegal Certification within 9 months of hire is required.

• 5+ years in a clinical setting
• Paralegal Certification is a plus
• 3 – 5 years in a law firm

• Immense attention to detail
• Disciplined with ability to work independently
• Goal oriented
• Team-oriented mindset
• Well versed in Microsoft Office; Excel and Word

• Researching and studying medical issues
• Collecting and studying medical records and completing detailed reports
• Cross-checking facts and verifying the accuracy and authenticity of the information presented
• Identifying and interviewing experts regarding suitability for case review
• Provide assistance in trial preparation
• Communicate professionally and promptly, at all times, with firm personnel, clients, and external contacts
• Track and docket all dates for various deadlines
• Manage and organize a large number of files / clients, ensuring all information is kept up to date and easy to access

• Immense attention to detail
• Goal oriented
• Team-oriented mindset
• Excellent written, oral, reporting and presentation skills
• Outstanding customer service skills and matching attitude
• Strong organization and analytical skills
• Ability and willingness to maintain the highest level of confidentiality
• Strong ability to manage several projects simultaneously while meeting deadlines
• Ability to lift a maximum of 30 pounds
• Well versed in Microsoft Office; Word, Excel
• Willingness to work as part of a team
• Ability to work with little supervision

Monday – Friday 8:00 – 5:00

We are an Equal Opportunity Employer.
17773